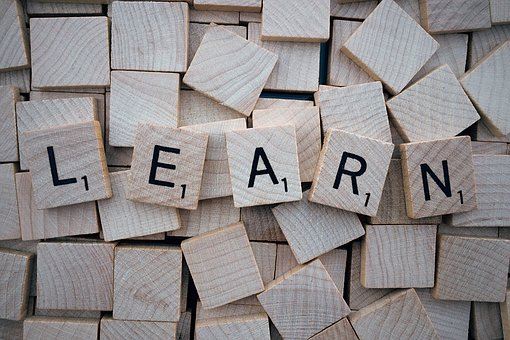 I am forever a student!  One of my favorite ways to learn is through a website called speechpathology.com. 
It allows me to pick a topic that I am interested in and then also to pick how I want to learn that particular topic. Do I want it live, video, text or audio? It is very low cost especially given the amount of CEU courses that you are able to take.
One of my favorite topics is written by Meredith Poore Harold, Ph.D., CCC-SLP who writes an article called " Research Watch"  ( Harold, M. (2017, October). Research Watch Report, Issue 5. SpeechPathology.com, Article 19380. Retrieved from: http://www.speechpathology.com.).  Her write up of recent research articles gives a fabulous summary as well as gives the full reference which allows you to read the research in its entirety.
The October 2017 article had several vocabulary research studies, all that were very pertinent to my work as a school speech and language pathologist. Vocabulary has been one of my favorite therapy focuses with all my students.
Recently I was at an IEP meeting in which a consultant jeered (or so it felt like) at the list of Tier Two words that I was working on with a student. This particular student has a significant language disorder and often has word finding problems. This had me reflect on what I was doing and to explore this topic more deeply.
I was following research-based approaches using literature to introduce the vocabulary, consistently reviewing the words and encouraging multiple exposures, involving the families through a parent letter and take home vocabulary key chains, creating word webs and having visuals for the targetted words. Was I correct in recognizing that vocabulary learning was an important skill needed? Should I stop sending home the vocabulary list?
I felt validated by three of the articles in this Research Watch.  One is from the American Speech-Language-Hearing Association (ASHA) Justice, L.M., Jiang, H., Logan, J.A., & Schmitt, M.B. (2017). Predictors of language gains among school-age children with language impairment in the public schools. Journal of Speech, Language, and Hearing Research, 60, 1590–1605. Vocabulary is an extremely important skill for all children and is one of the predictors of language gains.
So for my student, it is important that I spend some time in treatment and in collaboration with his classroom teacher to expand his vocabulary learning.
The second research article comes from the International Journal of Speech-Language Pathology. This is a very interesting study on the use of word webs and its impact on vocabulary learning. Best, W., Hughes, L.M., Masterson, J., Thomas, M., Fedor, A., Roncoli, S., … & Kapikian, A. (2017). Intervention for children with word-finding difficulties: a parallel group randomised control trial. International Journal of Speech-Language Pathology.
The research study has the methodology that they used and offers lesson plans.WORD Therapy Guide I was very excited to learn that one of their tools was the use of fun buzzers which is something that I have been doing in my treatment room although I use it in a different manner. ( I will need to blog on this fun activity at a later date.)
One of the changes that I will make in my treatment approach after reading this research is spending more time on word webs. Although I have worked with Semantic Word Webs I may not be spending enough time on Phonological Word Webs. As phonological awareness is another skill that is a predictor of language skill this might be something that will assist my student.
The third research study about vocabulary was about adolescence  Spencer, S., Clegg, J., Lowe, H., & Stackhouse, J. (2017). Increasing adolescents' depth of understanding of cross-curriculum words: an intervention study. Advance online publication. doi: 10.1111/1460-6984.12309. The article states that there is a continued need for direct instruction of vocabulary even in the teens years as there is a correlation between vocabulary and academic performance.
This particular student is increasing his vocabulary base AND has shown more growth across academic areas. Has the consistent work on developing his ability to not only learn new vocabulary words but to also organize those vocabulary words using word webs increased his word finding skills?
I will continue to learn, explore and take consistent data on my students so that  I can continue to refine my treatment techniques.  What are some of your favorite research-based approaches for teaching vocabulary?