I have always loved incorporating rhymes and music into my lessons.  Music assists in memory, developing language and often a child's first vocalization can come as they try to sing along.
When we are working with children with minimal verbal language skills we need to look for opportunities to allow them to communicate. One way of doing this is making scripts at circle time that will allow the child to make a selection of songs to be sung.  When a child has a choice they often will maintain longer attention. This can also be a turn taking task with after the child's song is over they pass it to their peer.
I have found that the children begin to recognize not just the songs but also which songs are the favorite of their peers, which is the beginning of social skill and friendship skills.
I have created a product that can assist in this and has 120 song choices. Some of these songs I have also made some additional visuals for and those have a link to them. Press  the red links.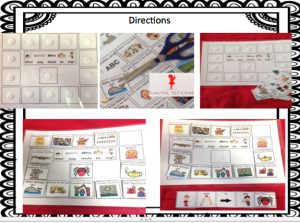 TPT product " What Song Should We Sing?"
SONGS LIST: This PDF has all of the songs: Preview Songs-compressed
5 Fat Turkeys are we 5 Fat Turkeys
5 Little TurkeysTPT product: 5 Little Turkeys
5 Green and Speckled Frogs TPT product: 5 Green and Speckled Frogs
5 Little Ducks TPT product: 5 Little Ducks
5 Little Monkeys Jumping on the Bed TPT product: 5 Little Monkeys Jumping on Bed
5 Little Monkeys Teasing Mr. Crocodile TPT product: 5 Little MonkeysTeasing
5 Little PumpkinsTPT product: 5 Little Pumpkins
10 in the Bed TPT product: 10 in a bed
A Frog Went A Courtin
Aikendrum Aiken Drum
Alice the Camel
All I Want for Christmas
All the Pretty Horses
Alphabet Song
America
America the Beautiful
Ants Go Marching: Ants Go Marching
A Peanut Sat
Apples and Bananas
Are You Sleeping?
A Tisket, a Tasket
Baa Baa Black Sheep Baa Baa Black Sheep
Baby Beluga Baby Beluga Song Card Free
Baby Bumblebee Baby Bumblebee
Be Kind to Your Web-Footed Friends
Billy Boy
Bingo Bingo
Blue Bird, Blue Bird
Bringing in the Sheaves
Brother Come and Dance with Me
Cat and the Fiddle ( Hey Diddle Diddle) Hey Diddle Diddle
Days of the Week
Did You Ever See a Lassie?
Down by the Riverside
Down by the Station Down by The Station
Do Your Ears Hang Low
Duke of York
The Farmer in the Dell Farmer in the Dell
Frosty the Snowman: Frosty the Snowman
Go in and out the Window
Grand Old Flag
Grey Squirrel Grey Squirrel
Heads, Shoulder, Knees, and Toes Head, Shoulder, Knees and Toes
Hickory Dickory Dock:  Hickory Dickory Dock
Hokey Pokey
Home on Range
Home Sweet Home
Hot Cross Buns
Humpty Dumpty: Humpty Dumpty
Hush Little Baby
If All the Raindrops were Lemondrops or Gumdrops
If You're Happy If your happy and you know it
I had a Tiny Turtle
I had a Little Nut Tree
I love Little Pussy
I'm a Little Scarecrow I am a Little Scarecrow
I'm a Little Teapot
I'm a Nut
It's Raining. It's Pouring.
Itsy Bitsy Spider Isty, Bitsy, Spider (Ant and Gorilla)
I've Been Working on the Railroad
Jack and Jill Jack and Jill
Jingle Bells
Johnny Works with a Hammer
Jolly St. Nick
Lavender's Blue
Lazy Mary
Little Miss Muffet Little Miss Muffet
Little White Duck
London Bridge
Mary Had a Little Lamb Mary had a Little Lamb
Michael Finnegan
Mr. Sun
Muffin Man
Mulberry Bush
My Bonnie
My Dreidel
My Grandfather's Clock
Oats, Peas, Beans, and Barley Grow
O Christmas Tree
Oh Dear, What Can the Matter Be?
Oh Where Oh Where has my Little Dog Gone
Old Grey Mare
Old MacDonald Old MacDonald
Old Suzanna
On Top of Old Smoky
Open Shut Them
Over in the Meadow
Pat-a-Cake
Peanut Butter
Peter Cottontail
Peter Peter Pumpkin Eater
Pop Goes the Weasel
Purple Stew
Rain Rain Go Away
Rock a Bye Baby
Row Row Row Your Boat: Row Row Row Your Boat
Rudolph the Red Nose Reindeer
Sailor Went to Sea
Santa Coming to Town
School Days, School Days
She'll Be Coming Round the Mountain
Sing, Sing a Song
Skip to my Lou
Skinny Marinky Dinky Dink
Star Spangled Banner
Teddy Bear's Picnic
The Bear Went Over the Mountain
The Cat Came Back
The Grand Old Duke of York
The Green Grass Grows All Around
The More We Get Together
The Old Grey Mare
There's a Hole in the Bucket
Three Blind Mice
Twinkle Twinkle Twinkle, twinkle, little star
We Wish You a Merry Christmas
Wheels on the Bus
Where is Thumbkin?
Whistle While You Work
Who took the cookie?
Willoughby Wallaby Woo
Zip-a Dee-Doo-Dah
It can be paired with my free resource also in the store Baby Beluga.
The child selects the song and reads the script.
If there is any song that you would like to see comment below.